Categories:
Author:
Current version:
1.09
About It:
Get it:
Rate it:
Flag it:
If you'd like to provide updated information and do not have access to directly edit, please contact the site admin; thanks!
Yoko for Textpattern
Yoko is a beautiful theme originally designed for Wordpress. It is very flexible and can be customized quite easily. However, it comes with everything you need to start blogging right away, also including several backend plugins that make content creation simple and fun.
Some of the features of Yoko are:
HTML5/CSS3 based (responsive) layout (will look good on your big screen as well as on a mobile or tablet)
Integration of gravatar and other social services (sharing buttons for Twitter, Facebook, and Google+ included)
easily customizable widgets
Slimbox2 for (optional) slideshow effects
optional category submenu
management of theme options through graphical user interface based on adi_variables instead of directly editing forms
fully localized front-end using Textpacks (English, German and Italian for now, more Textpacks for additional languages can be created very easily)
You can find a demo and installation/usage instructions at http://yoko.yauh.de.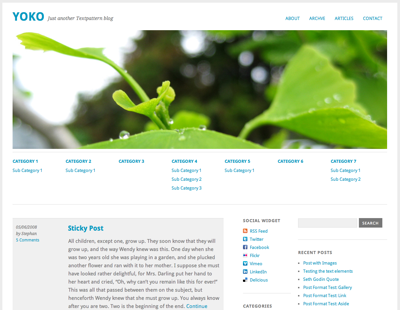 Keywords/tags:
Initially released:
17 Jul 2011