Categories:
Author:
Current version:
1
About It:
Get it:
Rate it:
Flag it:
If you'd like to provide updated information and do not have access to directly edit, please contact the site admin; thanks!
Thinkr Uppr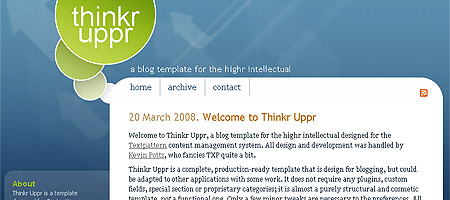 Thinkr Uppr is a brand new template designed for Textpattern-powered blogs. It is a complete cosmetic replacement, not functional, so it provides complete freedom in content taxonomy. It also looks cool and brings IE6 to its knees. :)
There is a live demo of Thinkr Uppr available.
Keywords/tags:
Initially released:
2008-03-20