Categories:
Author:
Current version:
1.0
About It:
Get it:
Rate it:
Flag it:
If you'd like to provide updated information and do not have access to directly edit, please contact the site admin; thanks!
Three-Columns MX4 Kubrick Mod For TXP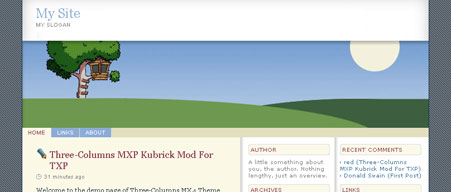 I would like to thank Mike and Thame for giving me permissions to modify their templates.
This theme was originally a two-columns theme designed by Michael of MX4, and ported to Textpattern by Thame.
Preview can be found here.