Categories:
Author:
Current version:
0.3
About It:
Get it:
Rate it:
Flag it:
If you'd like to provide updated information and do not have access to directly edit, please contact the site admin; thanks!
Codemirror admin theme
Admin theme for Textpattern 4.4.1 using CodeMirror syntax highlighting.
Requires: Textpattern 4.4.1 and uses CodeMirror 2.2.4.
Classic theme + syntax highlighting for Pages, Forms, Styles tabs (and, if installed, JavaScript and External Files).
Screenshot: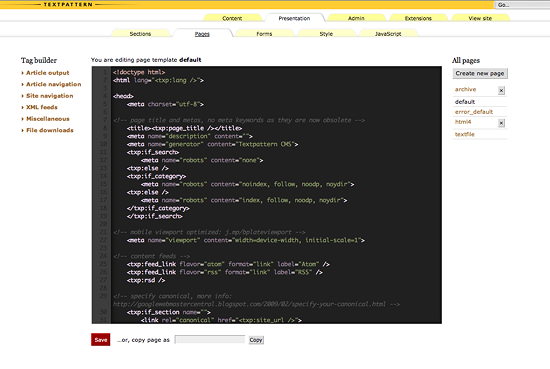 Recommended plugins: spf_js (version 0.2), spf_ext (forthcoming), smd_admin_themes.
Keywords/tags:
Initially released:
April 2012