Categories:
Author:
Current version:
1.0
About It:
Get it:
Rate it:
Flag it:
If you'd like to provide updated information and do not have access to directly edit, please contact the site admin; thanks!
Front-of-Site Theme Txp-Tumblog
This theme is the first (shiny) Tumblog theme for Textpattern with a lot of jQuery goodness, some gorgeous icons and let's not forget to mention the new "Theme Variables" and "Widgets" tabs so that you can easily tailor it to your needs.
Installation uses the brandnew "cxc_templates" plugin, what an installation almost as easy as with WordPress guaranteed.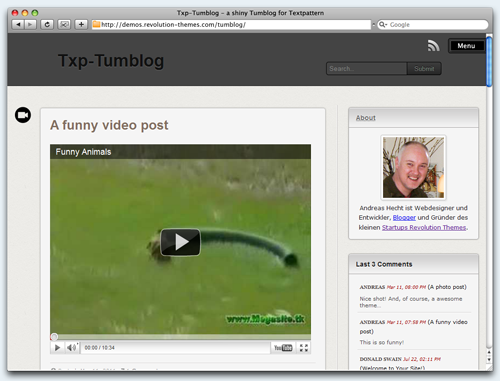 Here you can find a permanent demo of this theme
Keywords/tags:
Initially released:
12.03.2011