Categories:
Author:
About It:
Get it:
Rate it:
Flag it:
If you'd like to provide updated information and do not have access to directly edit, please contact the site admin; thanks!
TXPBlog Ancient Blog
This template is the second template converted by txpblog. Source of this is provided by templatemo free css tempale website. To Install and use, following these steps: – upload image, _template directorys to root of your txp website. – install mem_templates plugin, after this, you can see "Extension" menu on backend. – To use this template, you need back up your current template and import this template via "Extension"
TXP
backend menu.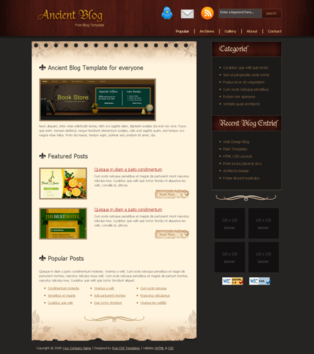 Customize:
This template includes some positions you can edit all, but you only need sidebar, content to customize your site via sidebar form, content form and widget form.
Besides:
You can edit footer content with footer form.
You can edit widgets content with widget_name form. EX, click on
Sidebar form to load your widgets.
"<div id="sidebar">
    <txp:output_form form="widget_social" />
    <txp:output_form form="widget_categories" />
    <txp:output_form form="widget_links" />
    .....
    </div>"
You can edit sidebar content with sidebar form – add more or remove one of widgets.
…
Main form to load main content area.
When you want to create new page, ex: music, copy your default page to music. Create music form, Find <txp:output_form form="content" /> and replace it with yours <txp:output_form form="music" />.