Categories:
Author:
Current version:
1.0
About It:
Get it:
Rate it:
Flag it:
If you'd like to provide updated information and do not have access to directly edit, please contact the site admin; thanks!
BlueSky Front of Site Theme
This is a professional ready to use blogging Theme with many nice features. Installation uses Manfre's "mem_templates", what an installation almost as easy as with WordPress guaranteed. Some minutes for the installing – ready to blog!
Screenshot: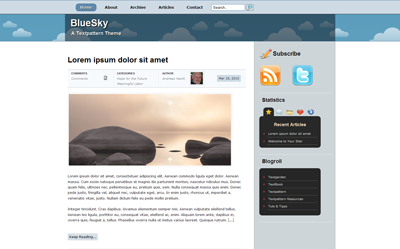 Keywords/tags:
Initially released:
21. März 2010