Categories:
Author:
Current version:
0.5
About It:
Get it:
Rate it:
Flag it:
If you'd like to provide updated information and do not have access to directly edit, please contact the site admin; thanks!
bas_lightbox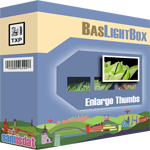 This plugin brings the Lightbox JS 2.0 by Lokesh Dhakar" to textpattern. Lightbox JS is a simple, unobtrusive script used to to overlay images on the current page.
Just place a comma seperated list of txp image id's into article's image field and use <txp:bas_lightbox />
Or include them into the tag <txp:bas_lightbox img="4,8,71" />
Alternative you can define a category <txp:bas_lightbox cat="images"/> or used the custom-field support.