Categories:
Author:
Current version:
0.18
About It:
Get it:
Rate it:
Flag it:
If you'd like to provide updated information and do not have access to directly edit, please contact the site admin; thanks!
rss_suparchive_menu
The rss_suparchive_menu will build listings of months or years along with the article totals within each to work along with the new rss_suparchive feature that supports filtering based on URL patterns. For example: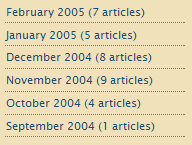 or
2005 (7)
2004 (69)
2003 (79)
The links generated will be in either /yyyy/mm or /yyyy format accordingly.
Works with RC3 and above ONLY