Categories:
Author:
Current version:
1.0
About It:
Get it:
Rate it:
Flag it:
If you'd like to provide updated information and do not have access to directly edit, please contact the site admin; thanks!
The Original QuikPik Hack
A reimplementation of the admin menu tabs using an HTML select list. The original is a slimmer version of QuikPik 2 .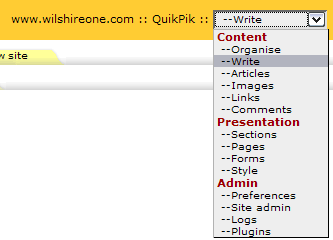 A version 2.5 and version 3.0 are available.