Categories:
Author:
Current version:
2.0
About It:
Get it:
Rate it:
Flag it:
QuikPik Admin Menu Hack 2.5
A reimplementation of the admin menu tabs using ALA's Suckerfish Dropdowns including many handy shortcuts. This is a follow up to The Original QuikPik Menu.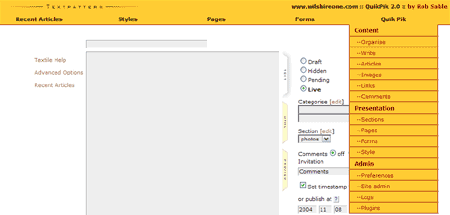 The original version and the new version 3.0 are also available.
Article Request Count:
Initially released:
7 November 04
Article modified:
25 Feb 2005