Categories:
Author:
Current version:
0.4
About It:
Get it:
Rate it:
Flag it:
If you'd like to provide updated information and do not have access to directly edit, please contact the site admin; thanks!
mic_tinymce
Adds a WYSIWYG interface to the admin Article "write" page, with an integrated image manager and uploader, graphical emoticons and search and replace functions. The editor can be toggled on ro off for single articles.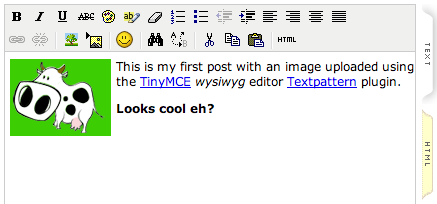 Requires Textpattern 1.0RC3, Rev 198 or later (when admin-side plugin support was added).
Archived [?]: replaced by <txp:zem_link href="505">hak_tinymce</txp:zem_link>
Initially released:
28 March 2005