Categories:
Author:
Current version:
1.2
About It:
Get it:
Rate it:
Flag it:
Hive Reloaded Administration Theme
The Hive_Reloaded Administration Theme based on Phil Wareham´s Hive theme.
The original theme seemed not user friendly enough, so I changed some things for me.
Screenshot: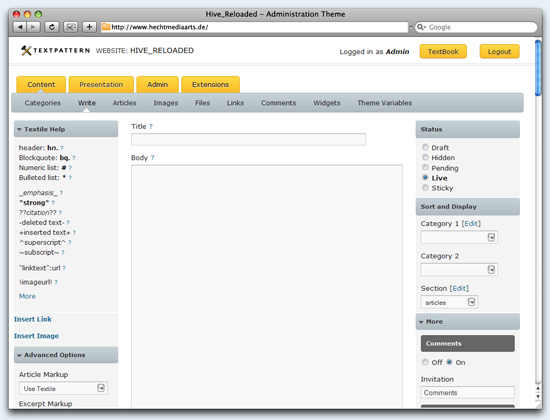 Update 26.03.2011:
Version 1.1 – adding a dropdown navigation menu for a better usability.
Bugfix – Plugin Upload
Udate 29. 03. 2011:
Version 1.2 – adding article tabs and image for article tabs.
Article Request Count:
Keywords/tags:
Initially released:
21.03.2011
Article modified:
29 Mar 2011