Categories:
Author:
Current version:
0.4
About It:
Rate it:
Flag it:
Notepad Hack
UPDATE: 27 Mar 2005 – This hack has been ported to an admin plugin
This hack/extension will add a 'Notepad' top-level tab to your admin interface and two subtabs (public/private). Every user — regardless of permissions level — has access to edit/view the public notepad. Each user also respectively has their own individual private notepad.
It is very useful for intra-author communication (it is used on this very site to give tips & answer FAQs on posting guidelines) and for just writing down private notes or reminders to oneself.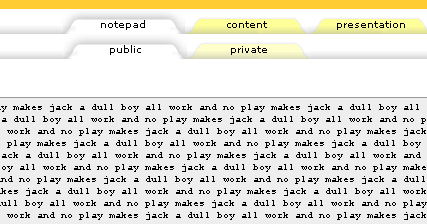 Article Request Count:
Initially released:
09 November 2004
Article modified:
27 Mar 2005